What We Discovered About Organic Listening
March 4, 2021
Listening and monitoring have always been an important part of social media management. In 2020, these practices became crucial, not only in our handling of social media, but also in gaining an understanding of audience sentiment in general during some critical times.
One practice we were able to refine is what I call organic social listening: using the platforms themselves rather than a third-party solution to listen to and monitor our social media audiences. We mostly used Twitter for this, which was the primary platform where these real-time conversations were taking place.
We really took advantage of the network connections Twitter lists for you. When you go to a person's profile, it lists the people who are both following that person and you (in our case, @MIT).

When you click the "Followed by…" link, it takes you to a complete list of the followers you have in common: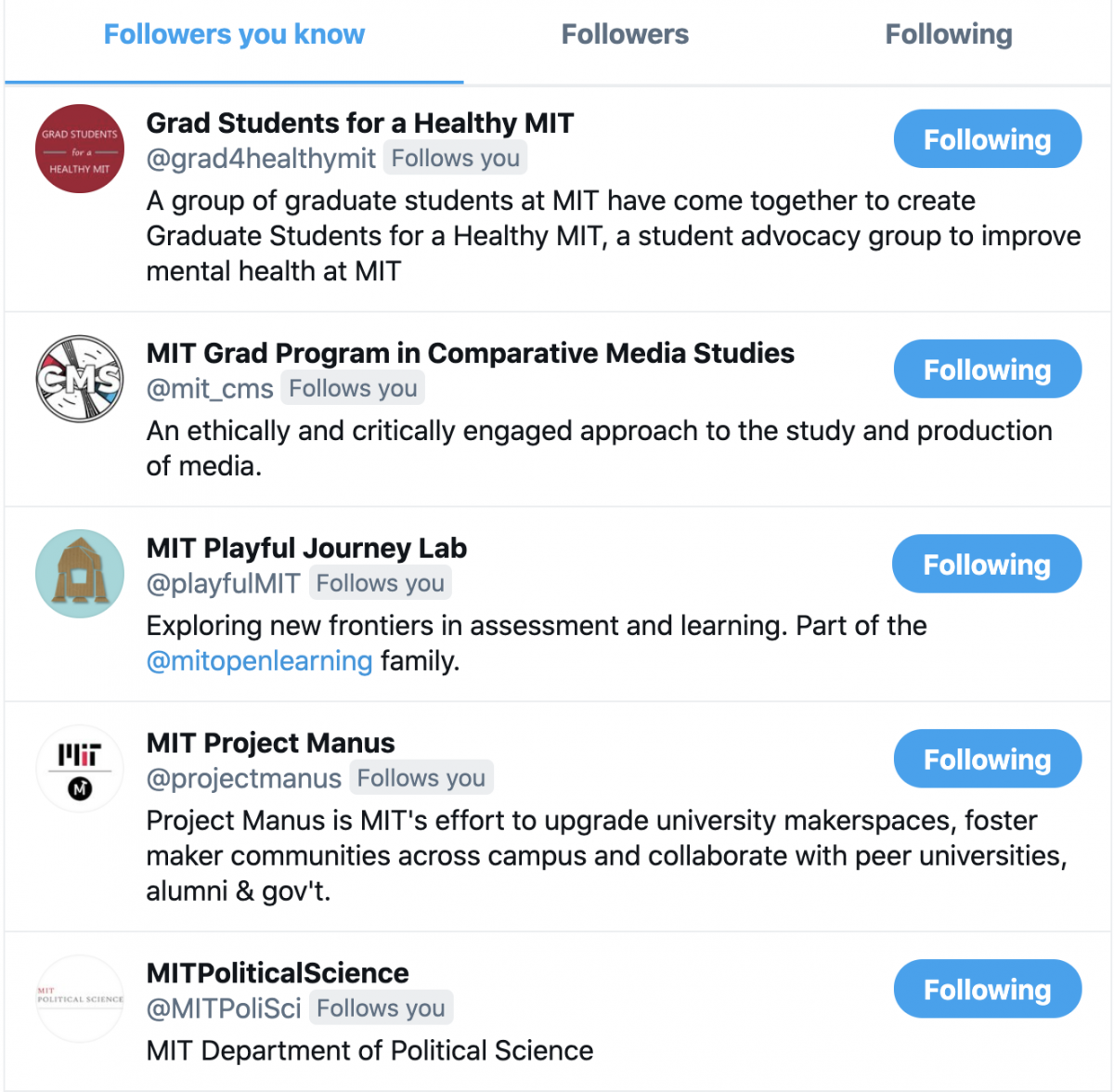 We used these lists to get a clearer, broader picture of the MIT community on Twitter. We also used it to build more robust lists of our own.
In addition to doing keyword searches in Twitter, we paid particular attention to the comments within Tweets of interest, along with Quote Tweets.
While we kept an eye on verified accounts and accounts with large follower totals — which were often members of the media — we were even more interested in what our students, faculty, alumni, and staff were saying about these topics. We discovered that members of the MIT community would more often comment on Tweets rather than post original Tweets. The comments don't always show up in a search under "Top Tweets" or "Latest Tweets."
Once we peeled back the layers of the conversations, we got a really good idea of sentiment on any given day within a very specific audience — the MIT community both on and off campus.
In-house and agency listening collaboration
In terms of social listening, we found that the agency teams we work with tended to concentrate on Tweets with the most engagements, verified Tweeters with large followings, and media outlets, which helped us understand the breadth of the conversation. On the other hand, the Tweets of those we knew were influential voices within our community were sometimes overlooked by external teams.
Because we took more time to read individual comments, our in-house team was more in tune with the depth of the conversation. We picked up on the Tweeters within our community who did not necessarily have a large audience at the time but were actively posting on a topic we were monitoring. We noticed that more people, including members of the media, started following these particular Twitter accounts for the latest information about any internal communications involving the topic of interest.
Through navigating crisis after crisis, we were able to build robust lists within Twitter. These lists and our newfound practices of organic listening proved invaluable throughout 2020 and still serve us well today.