How We Use Slack
May 11, 2017
MIT has a very collaborative social media community centered around the Social Media Working Group (SMWG). The group is composed of staff who either directly manage a social media platform for an MIT department, lab or center, or manage a person who does. There are currently 150 members on the official list, but I would say there are about 80 active, engaged members.
More and more conversations were happening over the group's email list, and I felt the list was being used too often and not for its intended use. The list was created to share Institute-wide communication messages and directives that came from executive leadership. I decided to move this collaborative discussion from the email list to a platform that was better suited for these types of quick conversations.
As a solution, I created a Slack team and invited everyone from the Social Media Working Group to join.

Slack is a communication platform that offers real-time messaging, key-word searches, content uploads, and archiving.
Despite being some of the most "plugged-in" people, social media managers do not, nor could they, see everything that is being posted from the MIT community. We needed a social tool where we can chat with our social media colleagues, bounce ideas off each other, share content, and ask for retweets without feeling like we have to craft an official email.
We have been using Slack for six months, and we currently have 85 members participating in a steady, ongoing conversation on all things social. I initially created five discussion channels for the team: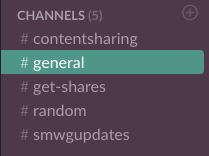 Here are some examples of the conversations taking place in Slack:
"Has anyone yet found a good room for recording interview audio? (small, quiet, anechoic)"
"Hey @channel - the Sustainability Summit is happening today and we're getting a ton of engagement on Twitter. If you wouldn't mind checking out the hashtag #MITSusty and sharing some of the tweets we'd really appreciate it. Thanks!"
"So...Mastodon? Anyone looked into this? Is it the Next Big Thing or a whole bunch a' nothin?"
"Anybody able to share what cameras they are using to shoot web videos (and a link to a video)? Looking for something portable, but more versatile than an iPhone."
I've gotten a lot of positive feedback about our Slack team. One participant said having me as a moderator helped. I try to pull people with experience in a particular topic into relevant conversation threads so they can add value to the conversation. I also try to react to as many posts as possible. I did this more often when our Slack team was new, but I have to say, I feel less and less a need to do this since the group pretty much sustains itself now.
Many members have also told me while they have not yet felt compelled to post in Slack, they find the conversations helpful, so don't assume your silent members are not paying attention. There is value in listening to the conversation as well.