The New MIT Connect
September 3, 2014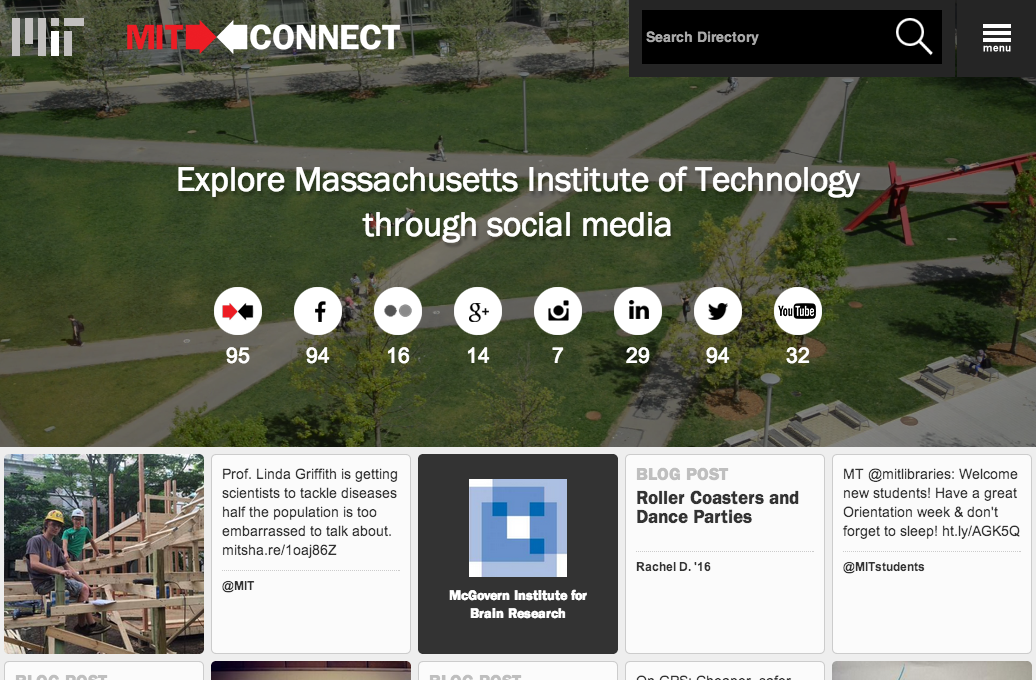 MIT Connect allows the world to explore MIT through social media. It was first launched in 2012 (read the MIT news article), with two main pages: the home page and the blog. The home page featured a header of recent social media posts, a "discover" section featuring suggested profiles of MIT departments on social media, and a directory, where you could search for a department and see what social networks they are using.
Welcome to the new MIT Connect.
The new MIT Connect site is faster, more interactive, and more image based than before. Some key features are included below.
Overall site
Drupal: We've moved from Wordpress to Drupal, which allows us to create custom modules such as the social stream on the home page.

View on any device: The site is responsive and is viewable on your mobile device.

Interactive: On the desktop version of the site, mouse over any of the posts in the social stream to reveal interactive options: on tweets, you can retweet, reply, or favorite directly from here. Also, you can click "view" to expand the post, click on the links or mentions, visit the main social account, or even view the MIT Connect profile of the department associated with the post. Moreover, sharing icons on each profile and blog post allow users to share content to their social networks easily.
Home page
Video header: The desktop version of the site shows off a video header. A prospective student can sit back and imagine that he or she is at MIT.
Social stream: The home page features a social stream—a longer feed of social posts from more profiles. The social stream includes posts from several sources and profiles. For example, you will see tweets from @MIT, @MITstudents, and @MIT_alumni, in addition to tweets from MIT's schools. You can also enjoy photos from Instagram accounts such as @MITpics, @MITalumni, and @MITmuseum. Moreover, you can view blog posts from sources such as Slice of MIT, MIT Admissions, and the MIT Connect blog. On a mobile device, the social stream is shown one post after another, allowing you to scroll through recent posts as you would on Instagram or Twitter.
Directory
Search: The directory is now on its own page. You can search for keywords like names or topics. You can also click on the Advanced Search to filter by category or social network.
Profiles: Each department, lab, or program on MIT Connect has its own profile page. The department profile shows a hero image across the top in addition to the department's logo. On this page you will also see a list of the department's social networks, profiles of related groups around campus, and its own stream of recent social posts, which includes Twitter posts, similar to the original MIT Connect, but we've now added the possibility to see Instagram and Google+ posts.
Blog
The blog still helps you find posts by showing categories and a tag cloud. A section has been added to show the list of authors. Posts are no longer shown in full on the front page, but are truncated so you can scroll through recent posts more easily and click to view the full post on a separate page. As you dig down into individual articles, you will notice the post is shown with an author profile and the option to see other posts written by that author.