Avoid Getting Hacked on Twitter
August 20, 2012
Updated July 16, 2014
The difference between spam and hacking when it comes to Twitter is that spam usually comes from a stranger (or from friends who use social media in annoying ways, but that's another issue). Attempts at hacking your account, however, can come from someone you trust, not because that trusted connection is trying to hack you, but because he or she has been hacked and the hacker is using their account to send links via direct message or mention to followers to continue the hacking cycle. Here's how to avoid and combat hackers:
1. Don't click on links when accompanied by a vague message or no message at all.
If you are unsure, message the person back and ask if they meant to send it to you. The message may be blatantly spammy; for example, it may ask if you are looking to make some money. However, it may also be vague, such as a message I received that said "This has worked great for me. The link explains it." If you get a vague message that doesn't clearly tell you what you're clicking on, don't click on it.
2. Limit the amount of apps that have access to your Twitter account.
Clear out all apps you do not use and trust. The instructions in this section were updated July 16, 2014.
Click on the gear wheel at the top right (see image).

Click on "Settings", then "Apps" (see image).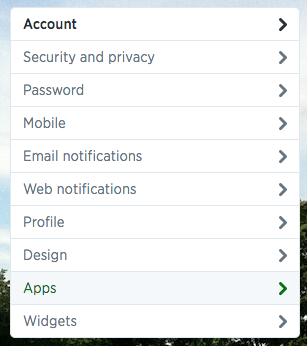 Go through the list and revoke access to apps you do not recognize or use.
You may recognize some as a service you used once for a glimpse at your Twitter analytics, but never used again. It's time to revoke access to the app, which may be continuing to gather data.
3. If your account is compromised, reset your password.
If you see tweets or direct messages coming from your account that you did not send, or if your account has been compromised in any other way, reset your password a different, strong password. Also, scan your computer for viruses and make sure you are running the required updates on your computer. According to Ray's 2.0 blog, you should also make sure your email address has not been changed by the hacker. You can view your email address in "Settings" (thanks Ray!).